"We've had to re-learn to trust the human condition. And that's probably one of the best things to come out of this. We've had to recognise that we're all in this together, that everyone's got the same worries and we've all been at home and locked away from our colleagues. So that's one of the biggest positives, that we will be more empathetic as a group of people when this is all over. I don't think that will disappear too quickly." - Philip Miller, Co-CEO, Solidatus
Speaking with our friends over at The Realization Group for Harrington Starr's latest issue of The Financial Technologist, Philip Miller joined tech industry heavyweights to discuss 'The seven habits of highly effective financial technology leaders', looking at how Solidatus has weathered the storm of the past year and half not only for its clients, but also for its own team.
He discussed how Solidatus has approached the evolving client journey that has resulted from the global pandemic, and how we have "moved into a bigger pond now, by seeing the opportunity and making investment to capitalize on it."
'The seven habits of highly effective technology leaders' also covered the following important topics from across the technology industry:
⚡ The habits of great fintech leaders
📈 Growth through the pandemic
📱 Tech trends
💙 Diversity, Equality and Inclusion
👥 People and Performance

To find out more, check out The Financial Technologist, Issue 2 - 2021: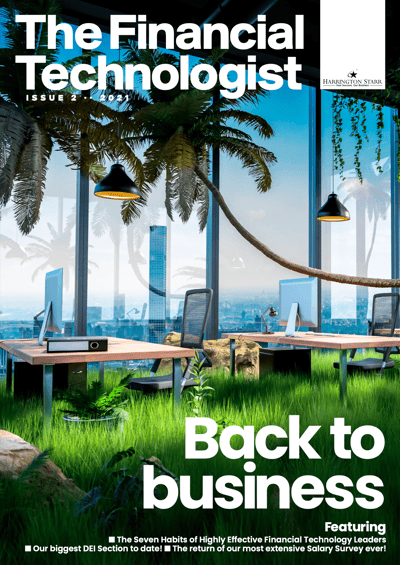 Coming up next is Philip's article 'Resolving data trauma through optimisation and innovation' where he explores how Solidatus is addressing the lingering data challenges across different industries and what our plan moving forward looks like as the data management landscape continues to evolve.
You may also be interested in:
'The Increasing Role Chief Data Officer Are Playing in the ESG Landscape' with Lorraine Water and Nasdaq Tradetalks
Data Isn't Expensive, Complexity Is - Philip Miller Interview with EM360
Do We Need 'ESG-as-a-service?' by Lorraine Waters for Finextra
FIMA Connect CDO Roundtable: 'Proactive Versus Reactive Data Management'