We are pleased to announce that Solidatus is the winner of the UBS Future of Finance Challenge Smart Risk Management category. We were chosen out of hundreds of initial applicants to pitch our solution to a panel of senior executive UBS experts. The pitch, delivered by Co-Founder Philip Miller, was selected as the winner from the top 10 finalists in a well contested group.
The Smart Risk Management category was a perfect fit for us since we specialise and excel within the Risk and Regulation space. The Smart Risk category finals were held in Singapore, an ideal location for us given that we have an office there and know the APAC region very well. The finals in Zurich covered the Digital Transaction Rails & Tokenized Assets challenge and the New York final will cover both the Deepening Client Relationships and the Technology enablement challenges.
All Smart Risk Management applicants were asked to demonstrate how their technology could help UBS meet high security standards for their clients that operate in a global, digital ecosystem. They are seeking new technology solutions that can help to automate risk reducing, compliance and regulatory tasks:
How can they enhance real-time transaction monitoring and anomaly detection to support anti-money laundering (AML), counter-terrorist financing (CTF) and associated know your customer (KYC) obligations?
How might they automate delivery of regulatory change notices with a comprehensive view across an entire division or region?
Once changes are implemented, how might they automate the demonstration of compliance back to regulators?
Our key focus was on "Driving, Delivering and Demonstrating Regulation" and how Solidatus enables impact analysis, implementation and transparent compliance with regulatory change notices. This proved to be the correct pitch emphasis, given the win.
The UBS judges for the Smart Risk Management category were made up from executives from Wealth Management, Equities, Digital Transformation, Change, Technology and Asset Management.
Zane Pritchard – Head of Compliance & Operational Risk Control APAC awarded us the title and presented the trophy (pictured below with Philip Miller).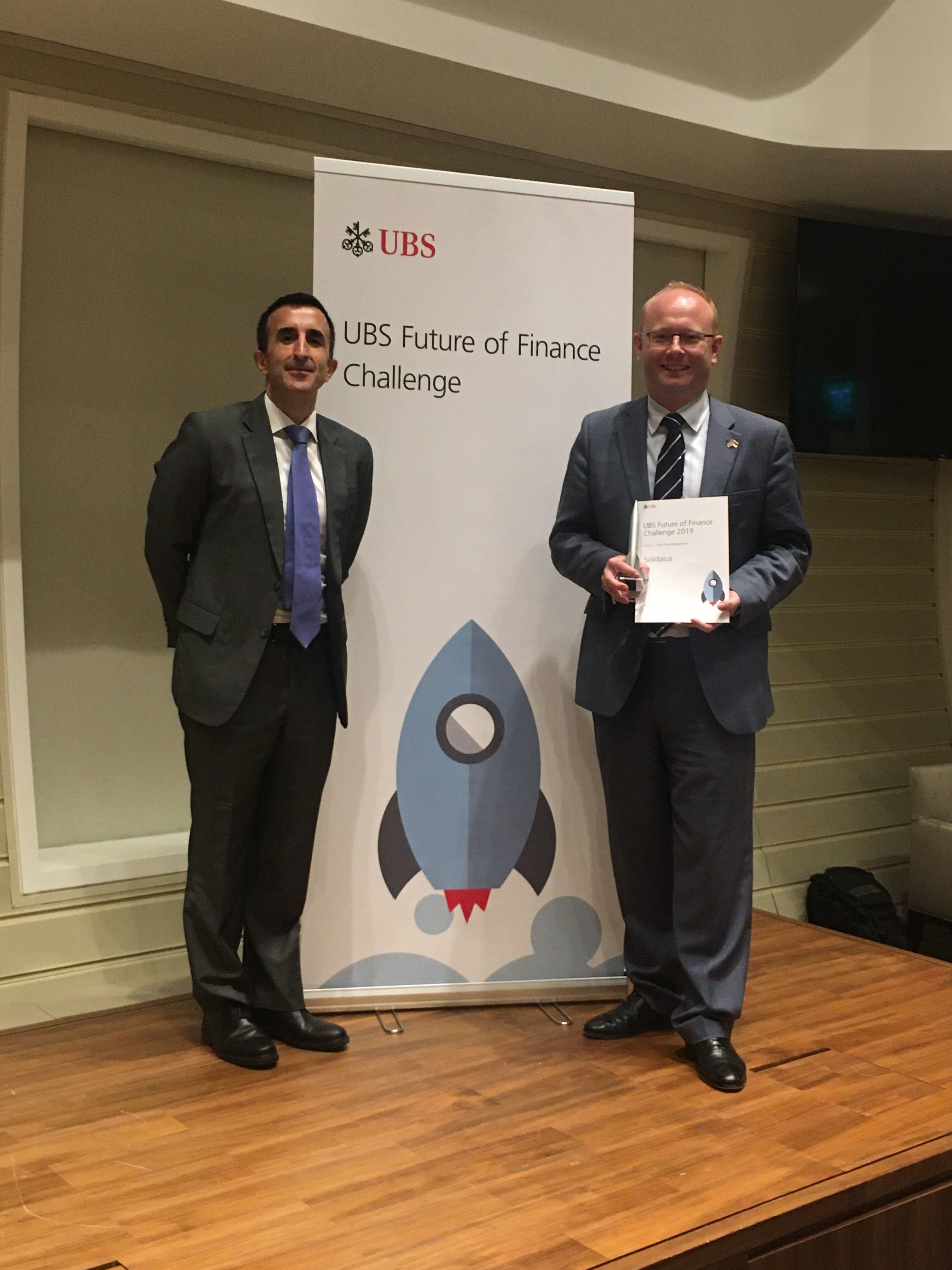 The winners of each category were awarded cash prizes and the opportunity to accelerate worth over USD $200,000, including over 150 hours of dedicated coaching from UBS experts, mentors and partners.
The competition was open to financial technology (fintech) start-ups and tech entrepreneurs from around the world, with a wide range of innovative technological ideas and solutions that address specific challenges to support the transformation of banks for the future of finance. It was delivered in collaboration with Deloitte and the innovation agency 100% Open. This collaborative approach offers commercial and technical expertise to the innovators participating in the competition and provides them with access to the innovation pipeline of a leading global financial services firm at the same time.
To read more about the challenge and the winners click HERE for the official UBS press release.
The Digital Banker also wrote an excellent article on the competition and important of Smart Risk Management. Click HERE to download.