After a brilliant year of accolades and achievements, we are excited to announce that we have been named as the winners of two categories at the A-Team Data Management Insight Awards 2021.
For the second year in a row, we have won the 'Best Data Governance Solution' which is a real testament to our transformative governance capabilities in the world of data management. Our data governance solution goes beyond basic management, adding different dimensions through powerful visualisations and this award truly cements that.
We have also been named as the winner of the 'Best Graph Database Solution for Data Management' category. This is a new award for us, and we are immensely proud to have been recognised for our innovative work. In a complex digital landscape, having a visual representation of the connections that define and drive an organisation can be the differentiator between a successful enterprise and a failed one.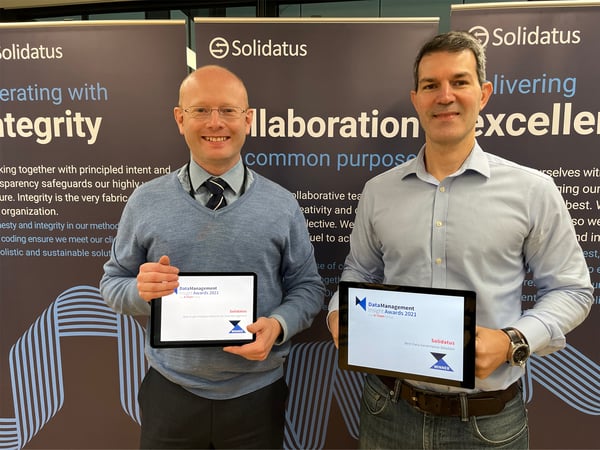 Solidatus Co-CEOs & Co-Founders Philip Miller and Philip Dutton
These wins come off the back of an amazing year for our company, having been named in the RegTech 100 2021, as the 'Most Innovative Data Governance Initiative' and 'Best ESG Regulatory Solution', and most recently as the 41st fastest growing technology company in the UK for the 2021 Deloitte Technology Fast 50 rankings.
We are sure 2022 will be equally as rewarding, and look forward to sharing it with our colleagues, partners, clients and industry peers.

Find out more about the Data Management Insight Awards in the Winners Report for 2021:
You may also be interested in:
Our rise to the UK Fast 50
Rapid growth earns place for Solidatus in Deloitte's 2021 UK Technology Fast 50 rankings
Solidatus wins 'Best ESG Regulatory Solution' at the RegTech Insight Europe Awards 2021
Solidatus wins 'Most Innovative Data Governance Initiative' at the A-Team Innovation Awards 2021
Solidatus has been selected for FinTech Globals RegTech 100 2021