What a year it's been. For every year that passes, every new team member, client and partner, we see the Solidatus vision continue to develop in ways we could only have hoped for when we embarked on this journey almost 11 years ago - 2021 has been the most eventful in our history.
Since 2017, we have grown 932%, which sounds like a fantastical number – because it is. Winding the clocks back to early 2020, we didn't anticipate that Solidatus would take off the way it did during a global pandemic. We've seen some of the most talented and inspiring people in the industry walk through our virtual door in that time, and we've succeeded beyond where we thought possible when we left our desks and hunkered down in our new home offices nearly two years ago.

Recent accolades are testament to our achievements. From making the RegTech 100, to winning numerous awards including 'Most Innovative Data Governance Initiative' and 'Best ESG Regulatory Solution' , to securing our £14 million Series A funding with its backing from Citi and HSBC. It's humbling to have such a great team and to have led it through such a challenging time.

So, when it was announced that we were the UK's 41st fastest growing technology company at the 2021 Deloitte UK Technology Fast 50 event, the feeling of pride was no different. This award is a culmination of what we have done and demonstrates the impact we continue to have in transforming data management.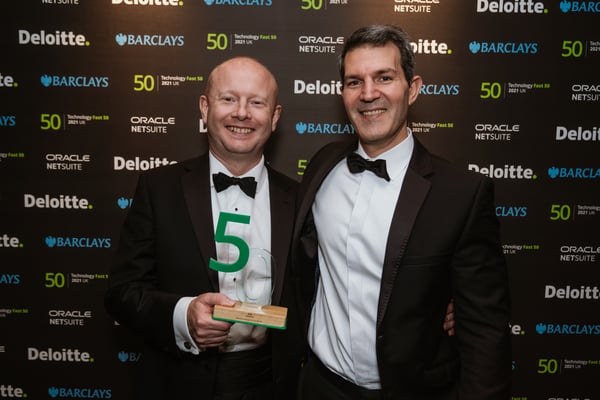 Solidatus Co-CEOs & Co-Founders Philip Miller and Philip Dutton
The Fast 50 has been running for 24 years, and when we started Solidatus in 2011, winning a such prestigious award, and joining an elite list of trailblazers, seemed like a pipedream. However, that dream came true and we proudly accepted our place alongside the most impressive tech companies in the country. It's difficult to convey what this recognition means to us as the founders of Solidatus.

The years of hard work and long nights, being the evangelist, the team building, along with forging important, long-lasting relationships have paid off in so many ways. This is one of those ways, and we hope to be included on this list again, as well as others like it, because we plan on continuing to grow at an exceptional rate.

So much has been achieved already, and there's much more to come, and with the help of our wonderful team, community of innovative partners and clients, we can't wait to share the next steps in the Solidatus journey.

You may also be interested in:
Rapid Growth Earns Place for Solidatus in Deloitte's 2021 UK Technology Fast 50 Rankings
The Solidatus Vision Accelerated: Why We Took Our Series A Now
Big Data LDN 2021: Creating an Active Data Culture for an Interconnected World
Big Data LDN 2021: Data Governance - Why, How and How Much? Panel Discussion
Big Data LDN 2021: Big Data & Privacy - What You Need to Know Panel Debate