2020 has been a year unlike any in living memory with Covid-19, directly and indirectly, affecting every person on the planet. The repercussions of the pandemic have had an immeasurable effect on almost every person and organisation across the globe. The pandemic is changing the dynamics of how we operate as businesses. This displacement reveals the widening cracks in an organisation's data strategy, as knowledge of company data and processes is walking out of the door. Businesses taking action with a renewed effort on Data Governance and Data Management will gain a head start in a post-pandemic world.
Like many, at the start of the year the word 'furlough' meant nothing to me, redundancy was not something I thought would happen to anyone I know and stalwart businesses would continue to exist and operate long into the future. Now, I find most people I know have been furloughed, or have been made redundant. Some local shops - both large and small - no longer exist, and we hear of further problems ahead. Even businesses which boomed during lockdown are now suffering. Panic buying at the start of lockdown resulted in record profits for supermarkets.
Some of those organisations now report significant losses and have announced redundancies and closures. During their furlough, some people have taken the time to re-evaluate their life. Some have used the time to retrain into different roles, to move companies, or even to take early retirement. But what effect is all this having on the lifeblood of many organisations – its data?
With more and more people working at home, the casual chat at the coffee machine, on the walk to grab lunch, or maybe over a drink after work is no longer happening. When was the last time you 'Zoomed' a work colleague to chat'? It is impressive how such informal discussions can yield useful information about an organisation's data.
As people leave an organisation, the knowledge they hold in their heads usually goes with them. Often, they do not have suitable tools to capture and record that knowledge. Some individuals deliberately withhold knowledge to boost their perceived value.
For whatever reason, we miss the opportunity to capture important information, and the result is a constant loss of knowledge. Information landscapes are complex; they need good management and better governance to understand: What data exists? Where is the data stored? How did it get there? When did it move? Who is accessing the data, and for what purpose? Plus a myriad of other facets about the data and processes.
The cost in regaining this knowledge can be astronomical, and critical resources are tied up re-examining the organisation, delaying business-critical activities and initiatives intended to move the company forwards.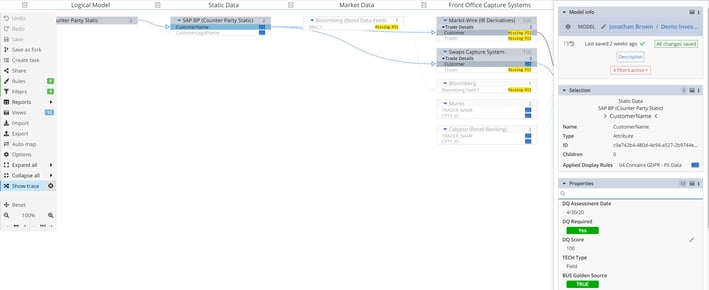 Another potential casualty is security. With more people working at home, we are moving more data around. Information is moving outside the organisation's security controls. Data is being downloaded, manipulated and analysed at home. Organisations are opening up more and more pathways to allow remote workers access to information they need to do their jobs. Informed users are finding their own ways because they are unaware of any existing routes, or existing processes are taking too long. As organisations open new pathways, they then increase the risk that 'hackers' can gain access to data.
It is more important than ever in these turbulent and uncertain times that organisations understand, capture and record information. The award-winning Solidatus solution is designed to solve these problems. Organisations can quickly develop their data landscape, crowdsource metadata, agree on terminology, and analyse data usage throughout their systems – delivering effective data governance.
Organisations that understand, manage and govern their data will be empowered to react quickly and take advantage of new and emerging opportunities. Those who don't, face the arduous and expensive task of re-discovering the knowledge they once knew.

For more information on how we can help enhance your data governance solution, get in touch.
You may also be interested in:
Data Governance
Data Management
Solidatus wins "Best Data Governance Solution" at DMI Awards 2020
About Solidatus
Solidatus is a next generation data management solution, enabling and accelerating an organisation's ability to understand its data landscape. Unique in its unopinionated, non-prescriptive design, with a simple, open, meta model that allows users to model any scenario or use cases to suit their organisational needs, not to fit into a vendor's view of the world. It is flexible enough to support innovation, but structured enough to allow elegance.