Meeting the requirements of Environmental Social Governance (ESG) criteria marks a commitment to building a more sustainable organisation and ultimately a climate positive company. But with so many standards, disclosures and rating methods, alongside the new data sources required to meet them, how do you understand how data requirements intersect whilst maintaining high-level control?
Using Solidatus, you create living blueprints that map how your data flows, and how it's affected, as it moves around your systems - both now and at other points in time. A Solidatus data lineage blueprint brings together ESG principles, company priorities, assessment methodologies and data sources and metrics to give a full end-to-end picture of the impact of ESG initiatives.
To comply with regulations relevant to its manufacturing activities, a global luxury fashion house with a cosmetics line has been required since 2020 to produce both its Climate Report, and report on its carbon footprint.
For each report, it has been collating information about people, processes and systems in a series of large Excel spreadsheets – these are challenging to analyse, and difficult to interpret or use to define action points.
The company needed to find a way to streamline and automate its processes, and track progress throughout the year, so it could make adjustments if it was in danger of missing its targets. This is why it came to work with our partner, Ortecha, to help automate its Climate Report, part of its ESG (Environmental, Social, and Governance) reporting suite.
Read the full case study to understand the technical steps Ortecha carried out to structure and explore the contents of the company's many Excel spreadsheets.
Ortecha used our powerful data lineage functionality to structure and explore the contents of the company's many Excel spreadsheets
Using our multidimensional data mapping functionality, Ortecha was able to show the company the hidden connections in the data used for their Climate Report and the key data points that could be fed into an automated process. A clear analysis of the company's Climate Report data was produced. This resulted in:
the automation of key data points
increased frequency of the Climate Report publication
improved efficiency of the report production
reduced risk of missing a target and the associated reputational damage
a road map for implementing improvements.
Repeating the analysis for the company's other reporting challenges presents further opportunities for consolidation and automation.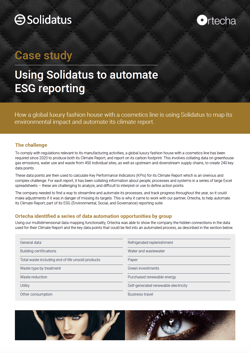 Daniel Bedford, Lead Consultant at Ortecha, commented on the project:
"By building a dynamic blueprint of the client's Climate Report key data points, the company can now get snapshots of its environmental impact reporting on demand. To date, Ortecha has brought 68% of these data points into its automation processes with the remaining 32% scheduled for analysis and future automation. Such stats demonstrate how this significantly reduces the risks of missing a target and the associated reputational damage."
Get in touch to find out how we can help you deliver on your reporting and regulatory obligations
Find out how you can create a living blueprint that can provide you with the knowledge and context for better-quality decision-making, robust impact analysis and reduced program time, risks and costs.